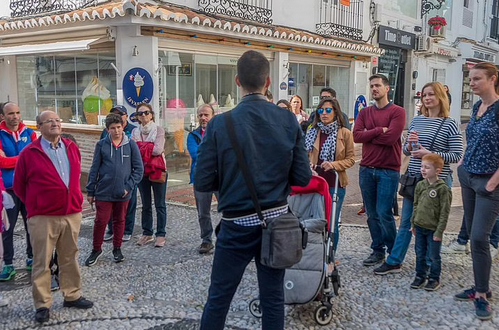 Discover a new experience
At Tour Marbella we are specialized in guided tours of Marbella and its surroundings, we offer a unique and close experience to share all the history and culture of the most emblematic places in the area.
With our official guides by the Junta de Andalucía, we will make each moment with us unique.
Tour Marbella
Our agency was founded in 2016 with the main mission of introducing visitors to Marbella and its surroundings, the culture, history and showing the mark left by ancient civilizations in the area. We offer a selection of tours, experiences and excursions where we will fully immerse you in the history of each town visited.
Our team of official tourist guides by the Junta de Andalucia, are specialist in designing the best experiences for each visitor, that is why we offer personalised tours, where we adapt to the needs and interests of each visitor. We will squeeze every detail into the tour to make your adventure with us perfect.
"We are convinced that traveling is immersing yourself in new cultures, which is why we work with local partners to support sustainable tourism practices."
In addition to our selection of tours, we also offer personalized itineraries for those who wish to plan their own travel experience (families, groups of friends, MICE…).
Our team is at your disposal for everything you need
We are constantly expanding our offer in order to offer the most diverse and exciting tourist options. From the stunning landscapes of Ronda to the vibrant atmosphere of Malaga city, we have something special in store for every type of traveler.
Thank you for considering Tour Marbella for your next adventure. We look forward to helping you plan the trip of a lifetime :)."