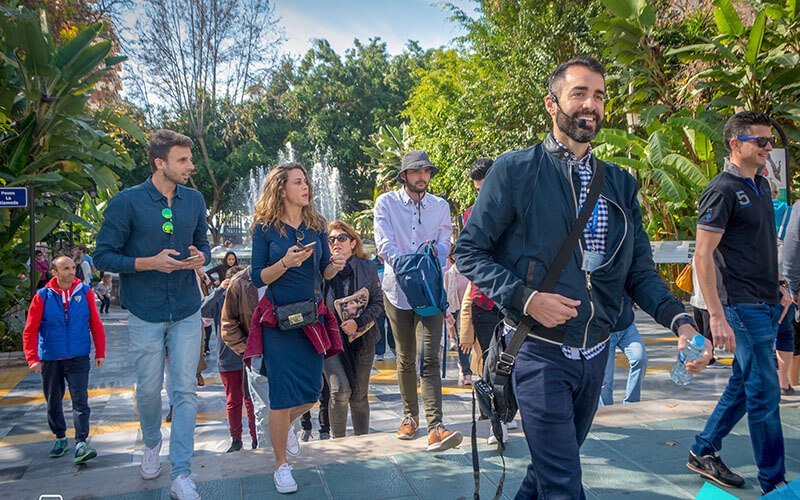 Marbella is much more than the sun, the beach and fancy restaurants. Join this group tour to learn about the most unknown part of the city. History, fun facts and a a little bit of mystery, why not? Delivered by a passionate local tour guide.
The tour begins in the Alameda Park, a small urban forest that since hundreds of years has been a meeting point and celebration place for the local people, not in vain, in this same environment is organised in June the lively fair of Marbella.
We then walk along the Avenida del Mar to the seafront promenade, walking by the famous statues designed by the surrealist Salvador Dalí.
After a short walk by the sea we return to the old town where we will immerse ourselves in the unknown history of Marbella.
Different civilisations have settled for thousands of years in the area. Phoenicians, Carthaginians, Romans and Muslims have passed through these lands and it is precisely the latter, after almost 800 years in the area, who left a mark that has survived to the present day. We will talk about Muslim Marbella and its Reconquest.
Did you know that Marbella was a walled medina that still preserves its 10th century castle?
Have you heard that Ferdinand the Catholic himself took the keys to the city from the Moorish?
Do you know about the city's industrial past?
We will visit the oldest art gallery in the province of Malaga, circumstances and capacity permitting.
If you are one of those who like to try something different you are in luck because during the visit we will enjoy a mini tasting of premium olive oils that will not leave you indifferent. In addition to the best extra virgin olive oils we will taste oils infused with orange, truffle or smoked jalapeño among others.
And to finish this afternoon among friends, we will enjoy a drink in one of the typical bars in the old town, where we will take the opportunity to get to know each other better and if you like, discuss the visit.
Discover the secrets of this magical setting whether you are from Marbella or just visiting the area, I assure you that you will not fail to be surprised.